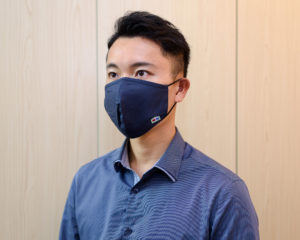 Already ubiquitous, face masks have become one of the most visible symbols in our fight against COVID. Yet, a massive number of discarded disposable masks end up in our landfills or wash up on our shores every day, and that poses a significant impact on the environment.
As an organization that strives to build a brighter and more equal society for all, we collaborate with Better Off Alone and introduce eco-friendly HKME face masks.
The promotional price is only $136 each (regular $160) or $384 for three masks, plus shipping. As a bonus during the promotional period, we'll also include a bonus gift at no extra cost!
Net proceeds of sales will help support HKME's work. Let's fight the virus with love and style!
---
FEATURES OF HKME FACE MASK
ANTIMICROBIAL Silverplus® is an antimicrobial agent that blocks or slows the spread of microorganisms.
BREATHABLE 100% fair trade Egyptian cotton, breathable & soft on the skin.
ECO-FRIENDLY Compared with masks made with synthetic fibres, this is much more biodegradable and significantly reduce impacts on our environment.
ECONOMICAL 70% cheaper than purchasing and using a disposable mask every day.
COLOUR Navy blue with an embroidered HKME logo. Available in either S/M or M/L size.
IMPORTANT NOTES
You are placing a pre-order. We expect to ship the masks towards the end of October / early November. You will be notified once your order is shipped.
We won't be able to fulfill your order if you haven't paid or unable to provide proof of payment (if paid by bank transfer).
The size guide is for reference only. Please make sure the size is right for you before placing your order.
Bonus Gift (local orders only): For orders made during the promotional period, we'll include a bottle of Dr. Plus Hand Sanitizer Gel (250ml) at no extra cost! For those who choose the the three-mask offer, we'll include three bottles.
Shipping: A flat fee of $30 for delivery in Hong Kong.
Delivery: Orders are fulfilled in batches; your patience is appreciated. We can ship to your delivery address or you can pick up your order at an SF Express self pick-up point.
If you reside outside Hong Kong, please email us at info@hkme.org.hk for shipping and payment options. Please note that COVID-related postal restrictions may prevent us from shipping to certain destinations.
Due to hygienic reasons, all sales are final.